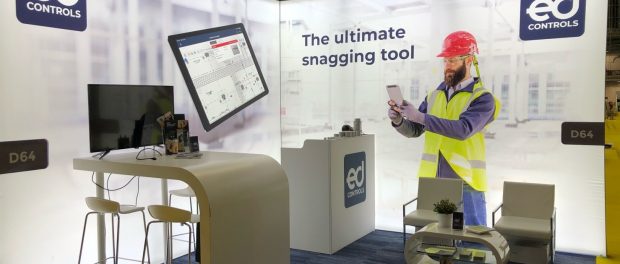 Ed Controls recently exhibited at London's leading design and construction show, LondonBuild, which was back after a two-year hiatus due to the Covid-19 pandemic. Here, Stephen McMenzie, Account Manager at Ed Controls, reflects on the two day event and discusses the future of the construction industry.
The Ed Controls construction app is an all-in-one project management solution. Founded in 2011, the app was conceived on site after two men, Rutger-Jan and Michiel joined forces to digitise project communication.
Developed with builders in mind, Ed Controls simplifies the snagging process by offering construction workers an overview, a clear division of responsibilities and guaranteeing quality.
The company showcased the new and improved features of Ed Controls over the course of the two-day event at London's Olympia on 17th and 18th November, alongside hundreds of exhibitors and construction professionals. Attendees were able to meet the people behind Ed Controls and receive free demonstrations of the app, demonstrating how it can streamline efforts and reap results.
Discover all the new improved features of Ed Controls:
provides clear communication on the building site
enables data analytics per project or per company
improved camera to capture defects and prove finished work
timeline of events including who worked on the raised ticket and when
easy to use for everyone.
Traditionally, the construction industry has been slow to adopt technology. The global pandemic has provided a catalyst for the digitisation of the construction sector as it has an instant and dramatic effect on the industry. Some sites were closed, projects put on hold and supply chain issues saw a variety of materials difficult to obtain.
Almost overnight the industry needed to look at new ways of working and suddenly woke up to the potential of digitisation in construction. Snagging, defect management and quality control app Ed Controls is a world class example of digital construction management in action.
On almost every construction project, it is inevitable that problems will occur from time to time. However, there are digital tools available to help workers flag these snags or problems quickly and efficiently – and even prevent them from happening in the first place.
Easy to use systems like Ed Controls save time and reduce the risk of errors. Observations and snagging issues can be recorded instantly and quickly assigned to the right person. Automated audits, quality checks and reports can be compiled quickly and issued for review. For industries like construction anything that reduces risks and increases safety should be welcomed.
At any time and from any location, Ed Controls enables construction workers to:
issue tickets
assign responsibilities and tasks
make observations
record snags
undertake audits
make inspections
carry out quality checks.
Stephen says: "It was incredible to exhibit at the long-awaited return of LondonBuild, which exceeded expectations and was bigger and better than ever before. It was a fantastic opportunity to highlight the new and improved Ed Controls app and network with likeminded individuals in the industry.
"The pandemic has most certainly changed the way in which we work and as an increasing number of construction firms adopt game-changing tools like Ed Controls, we'll see construction activity transform and become faster, smarter and simpler in the future. Snagging, defect management and quality control apps can make your working life much easier. These apps replace all of your paperwork and spreadsheets with a simple, effective digital construction management tool that can save you precious time and money.
"For those that were unable to attend our stand at LondonBuild, we have free online demonstrations and a range of eBooks on our website to get you started – so please don't hesitate to get in touch to find out how Ed Controls can streamline your business."
Recently, the ten millionth ticket at Ed Controls was created. Ed Controls is a product of Dutchview, an innovative IT company from Deventer, the Netherlands.
Ed Controls currently has a Christmas offer of 40% off for single user licenses running until 31st December 2021.