Ed Controls helps BGEN deliver AstraZeneca projects at scale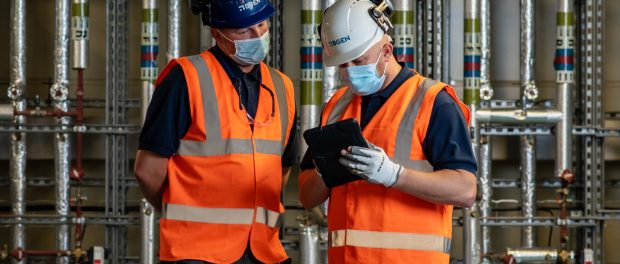 For BGEN, AstraZeneca Framework Account Manager Allan Watson, delivering projects Defect free became easier when he started using snagging and quality management system Ed Controls.
In this article:
Ed Controls helps deliver multi-disciplinary projects at scale
40+ users over 50 projects access Ed Controls
Digital snagging helps to deliver projects defect free
Ed Controls saves time and money
Improved auditing and quality management.
Allan works with Ed Controls every day across many projects and, for him, Defect free delivery is paramount. Using the digital system enables him to collaborate with multiple users across many projects at once.
"Previously, we used emails and Excel spreadsheets which were printed out and sometimes misplaced, so we needed a better system for capturing Defects and closing out project issues."
"By far one of the biggest benefits for me is the auditing ability of my own, and my client's team. At any time, we can go in and find out the status of everything in the development process, check progress on projects and ensure that any issues are being fixed."
Delivering high volume, multiple projects at scale
BGEN are working with AstraZeneca in Macclesfield, through multiple NEC4 Engineering and Construction Contracts. Set up by the Institution of Civil Engineers, the NEC4 Framework Contract helps to streamline processes, reduce potential problems and promote best practice.
Project Managers from BGEN and AstraZeneca use Ed Controls across the full design and build phases of the projects. It means they can check on-site progress, raise tickets for potential issues and make queries in an instant.
"We are using Ed Controls across 50 AstraZeneca projects with as many as 40 users accessing the digital snagging, defect management and quality control software," said Allan.
"We have a continuous flow of projects, some lasting a few months and others twelve months or longer."
"AstraZeneca is making significant investment into its Macclesfield Campus and our projects involve everything from new buildings and infrastructure to asset and facility upgrades in existing buildings."
"Work involves anything from stability rooms or packing lines for new products, installing energy efficiency monitors, motors, LED lighting, solar panels, EV charging points, rainwater harvesting, architectural fit out works and civil engineering."
Digital snagging improves defect free completion
Warrington-based BGEN provides engineering services to some of the world's largest and most respected blue chip companies. It provides a wide range of services from project management, design, fabrication, installation and maintenance.
The company's work for AstraZeneca is measured by key performance indicators, so meeting targets is crucial for Allan and his team.
"In everything we do, we aim to deliver projects defect free so the more snags or issues we can detect and resolve the better. Defects are tied into our KPIs so handing over completed projects snag free to AstraZeneca is of the utmost importance for us," he says.
Allan cites other benefits of Ed Controls: "The auditing feature has enabled us to improve the frequency and quality of our audits, and we free up time to do it on site for health and safety or quality audits."
"It has improved the adherence to our quality management system and means everything is uniform. Ed Controls helps us to work more efficiently, reduce defects at completion, and it fits very well with our quality management system by allowing us to generate specific audits as required."
"Ed Controls is simple, quick and easy to use and increases our chances of delivering our projects without Defects or delays. This is where the easy to use snagging features of Ed Controls make all the difference."
Ed Controls is exhibiting at the award-winning London Build Expo at Olympia London on 17th and 18th November 2021. You are welcome to swing by at stand D56 where the sales team will be available to answer all of your questions and provide free demonstrations of Ed Controls. To find out more visit: https://edcontrols.co.uk/