East London commuters enjoying benefits of Crossrail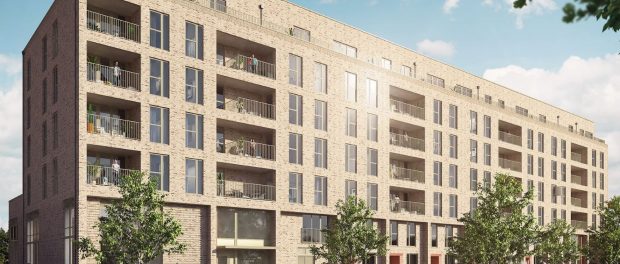 Commuters living in East London are already enjoying a shorter journey to work thanks to the arrival of the new Crossrail service.
Residents in Beckton, where Bellway London is delivering 391 apartments at its Beckton Parkside development, have had more than 15 minutes slashed off their daily commute to and from central London.
This reduction in travel time to the centre of the capital has been delivered by May's opening of the Elizabeth Line along 10 stations from Paddington in the west to Abbey Wood in the east.
Rail passengers can now get from Beckton station to Tottenham Court Road in just 32 minutes by taking the DLR to Custom House and then changing there for the Elizabeth Line. Previously, commuters had to change at Canning Town for the Jubilee Line and then Waterloo for the Northern Line, a total journey time of 40 minutes.
Emma Hamlett, Sales Director for Bellway London, said: "The Crossrail opening is tremendous news for London as a whole but particularly so for our customers who live at Beckton Parkside.
"One of our residents has reported to us that his daily commute to Tottenham Court Road from Beckton DLR station has been reduced by eight minutes. This means that over a five-day working week he is saving almost an hour and a half in travel time.
"Beckton Parkside residents live just a 15-minute walk from the local DLR station where it is a 10-minute train ride to link up with the Elizabeth Line. The new line also has seen the journey from Beckton to Liverpool Street cut from 34 to 29 minutes.
"These time savings brought about by the new Crossrail service are not only beneficial for commuters but also for residents at Beckton Parkside wanting to visit central London for shopping, sightseeing and nights out. The reduced times are also bringing other parts of London within reach of people living in Beckton, whether that be for business or pleasure."
Bellway London is delivering 281 apartments for private sale and 110 allocated as affordable housing for local people through rent or shared ownership at Beckton Parkside, which is off Viking Gardens.
Emma said: "These new homes at Beckton Parkside, which offer the latest in modern apartment living, are selling extremely well. Buoyant sales and the handing over of the affordable homes have meant that almost half of the apartments on the development are now occupied.
"We will be welcoming 55 new residents onto Beckton Parkside over the next couple of months after a raft of new completions and can see an exciting new neighbourhood taking shape. There is no doubt that the opening of the new Elizabeth Line, with its reduced travel times, is making the new homes at Beckton Parkside even more attractive to buyers."
Crossrail has received a mixture of funding from the Government, Transport for London (TfL), the Greater London Authority (GLA) and London businesses.
The full west to east section from Reading and Heathrow through to central London and on to Shenfield and Abbey Wood is due to open in 2023.
There is currently a selection of studio, one, two and three-bedroom apartments available to reserve at Beckton Parkside, with prices ranging from £262,000 to £530,000.
For more information about the new homes on sale at Beckton Parkside, call the sales team on 020 3993 6183 or visit https://www.bellwaylondon.co.uk/new-homes/thames-gateway/beckton-parkside.