Earth moves for Stonewood as expansion continues into 2021 despite Covid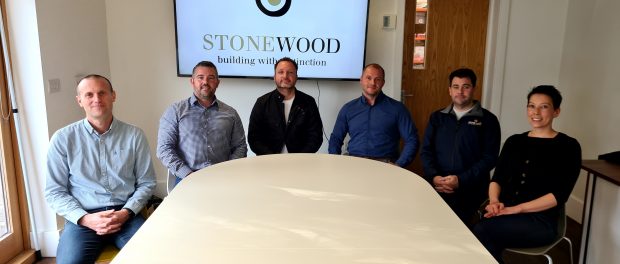 FAST-GROWING building group Stonewood says it will continue its expansion in 2021 after finishing 2020 strongly with the launch of a new division and the opening of its fifth office.
The 48-year-old company has added Earthstone, its own groundworks company, to the portfolio while opening another office for its highly successful contracting arm, Stonewood Builders, in Kidlington, Oxfordshire. Now it plans to establish a base in Cornwall after winning a multi-million museum contract there.
Chief Operating Officer Ben Lang said the moves are an expression of the confidence the group is feeling after riding the wave of a five-week Covid shutdown in March and April by employing more than 60 new staff since May. Further reason for optimism comes from the group's turnover climbing to £48m for the year ending in September, up from £44m the year before.
Said Mr Lang: "It just feels logical to grab good people when they become available. The more good people you have got, the better you are at meeting a challenge and the better placed you are to then flourish when times improve. That's all in addition to retaining your best people."
Fifteen of those new appointments have come at Earthstone, based at the group's main office in Castle Combe, north Wiltshire. Managing Director Neil Blackman and Construction Director Shane Andrews are known to Mr Lang and Stonewood Group CEO Matt Aitkenhead not just through their work in the sector but on the football pitch as well.
"We played with and against each other a lot in our younger days but we have worked with Neil and Shane as well," said Mr Lang.
"They both picked up the phone to us to say they were available within a couple of weeks of each other. We had been talking about starting our own groundworks business for two or three years, particularly since we began building houses. They are both good characters who are a great fit with us and they have complimentary skills, so it just felt like a logical move."
Earthstone won the contract for housebuilding arm Stonewood Partnerships' 44-home development at The Tannery in Holt, west Wiltshire, and has several other contracts with Stonewood Builders but, said Mr Lang, it won't be guaranteed every job.
"They will be one of the ground working options for Stonewood Builders and Partnerships but we still value the relationships we have with other groundworkers," he said. "Earthstone are not going to be given work, they will still have to win it, which means they will have to be competitive just like everyone else."
The move into Oxfordshire has been under consideration for some time and adds to those in Castle Combe, Corsham in north Wiltshire, Tormarton in South Gloucestershire and Castle Carey in Somerset.
"There have been some really high calibre, really good fitting people that have become available, so we've looked to recruit positively to develop our presence in Oxfordshire," said Mr Lang. "Opening the office in Kidlington makes sense given the increasing amount of work we have in the Cotswolds and it is a convenient base for that.
"We strive to continue offering the kind of personalised service we always have as a local builder for our clients and our staff. We love building teams and want people to understand that we have a real commitment to a particular area, rather than just going in there, finishing a project and leaving so it is important to have a base in each area. We first did this in Castle Carey, two years ago and it has proven to be a great success.
"We always want to be able to know our clients, understand their needs and be able to be responsive and that means we have to have a physical presence, work with local suppliers and contractors and also be part of that local economy and community. Stonewood Builders can go into new areas, develop contacts and relationships which then enables other divisions of the group to follows."
He said the move is also about fulfilling one of the company's principles – giving home-grown talent an opportunity to develop. "We have such a strong team culture within the company and so many great people driving it forward, we want to provide opportunities for them to grow and progress," he added.
Stonewood Builders will begin work in January on an extension to the birthplace of Boer War feminist and activist Emily Hobhouse in St Ive, near Liskeard, to form a museum. Said Mr Lang: "It's a very prestigious project for an existing client. The plan is to use a blend of our tried and trusted team and to build relationships and teams from the local area with a view that we find a permanent base there in the course of 2021."
With almost 250 staff, the company has grown exponentially from the family firm Mr Aitkenhead's father Neill passed on to his son and Mr Lang in 2009 but the pair have worked hard to retain the values Mr Aitkenhead senior instilled.
With growth and diversification come new challenges. Finding ways to hang on to core values requires constant improvement and evolution. Appointments such as that of Steven King, the group's first finance director, and investment into restructured internal processes are key to that, said Mr Lang.
"The things that are important to us are attention to detail, client experience, safety, quality of build and looking after our staff. By structuring differently we can make sure we don't lose sight of any of those things and by bringing in new talent we can continually improve our processes," he said.
"Our plan, particularly though the recession between 2008 and 2012 and Brexit and now Covid, has always been to do whatever we needed to do to keep our good people employed. What you don't do is cut back your people because they are the ones who got you there in the first place and they are the ones who will allow you to push through when things improve."
He added: "Over the course of the next five years we will probably look to open a couple more offices in areas where we feel we are a good fit, and out of that will come opportunities for all companies within the group. We excel in partnership and want to enter into joint ventures with landowners and estates where we can offer them a broad service, provide real value and deliver things we are all proud of."