Drainage systems key to housing development success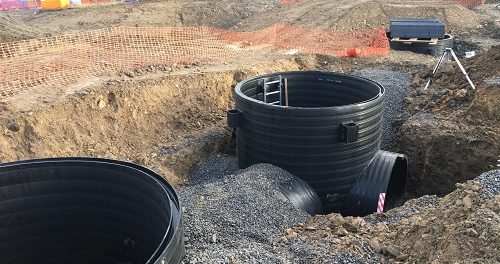 When it comes to new housing developments, having an effective and robust surface water drainage system is essential, ensuring a safe, sustainable residential environment.
Developers need to consider measures to effectively manage surface water and excess storm flow in order to reduce both the risk of flooding and pollution from run-offs. Incorporating various sustainable drainage options (SUDS) within developments is one way that developers can effectively control the dispersal of any unwanted surface water in housing developments, but this works best when combined with a range of drainage solutions.
Asset International has a proven track-record of delivering highly successful flood alleviation projects, having supplied Weholite HDPE pipes to multiple housing projects across the UK.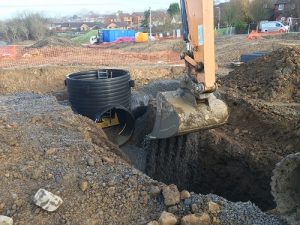 Most recently, housebuilder Barratt Homes sought a water management specialist to lend its expertise in storm water drainage networks for a brand-new property development in Gorseinon, near Swansea; a project conducted in partnership with Welsh Water. With a wealth of experience in the sector, Asset International was the obvious choice.
The storm-water network project at the Heol Pentre Bach development is set to provide a sustainable residential development and improve the local area by ensuring the storm water network is capable of storing more water during periods of heavy rainfall, when the sewer system risks becoming overburdened.
To deliver the project, Asset provided three separate storm water attenuation systems, consisting of 750mm, 900mm and 1800mm diameter Weholite pipes, as well as fifteen oversize manholes, ranging between 1.8m and 2.8m diameter, all installed under roads to be adopted by Swansea Council.
Each of the manholes benefited from being readily benched with HDPE anti-slip flooring, improving health and safety while also allowing for easier, quicker installation.
In total, 170 meters of Weholite pipework, cut into bespoke six metres lengths, were used to complete the scheme.
A flow control chamber was also installed to store and manage the flow of drainage. In the case of a large storm event flooding the drainage network, the chamber will ensure the controlled and steady release of water in order to prevent flooding. With a longer lifespan and less degradable properties compared to concrete alternatives, Weholite is well placed within a drainage system.
The Heol Pentre Bach project was delivered by Rapidgrid, along with engineering consultants Phoenix Consulting, who having previously used Weholite and being impressed with its performance, recommended using Asset to provide its bespoke water management solutions for the project.
For Rapidgrid, installation speed was a key factor in deciding to use Weholite for the project. Thanks to its lightweight, pre-fabricated properties, Weholite can be delivered and installed much quicker.
With Weholite products being designed and prefabricated at Asset's south Wales factory and delivered to site in modular components, Asset was able to maintain the Rapidgrid programme.  At the same time, Weholite pipes and manholes only require a granular bedding and backfill as opposed to any concrete surround, further saving on installation times and subsequently reducing installation costs.
Commenting on the choice of Weholite pipes and manholes, Rob Phillips, Quantity Surveyor at Rapidgrid, said: "Opting to use Weholite products was the right choice for this project and has brought with it a number of benefits. Using Weholite's pre-fabricated pipes and manholes, which were easily connected to the rest of the attenuation system, has helped to significantly cut installation times and meet our project timelines."
After adapting Phoenix Consulting's initial designs, Asset has already installed one of the storm water attenuation systems, with the remaining two set to be installed next month.
Speaking about the project, Asset International sales engineer Jonny Johnson, said: "This has been a very successful project and has cemented a strong relationship with all parties involved.
"Since initially acquiring Welsh Water approval for the use of our pre-fabricated Weholite manholes under roads back in 2015, we have seen significant growth across south Wales and have received strong feedback from our clients, highlighting the high quality of the product. We look forward to continuing this trend over the coming years."