DeTrafford Development to Feature One-of-a-Kind Roof Garden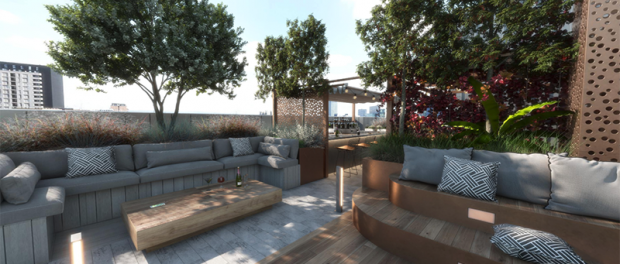 St George's Gardens by DeTrafford showcases rooftop yoga space, bar and outdoor cinema.
Luxury property developers DeTrafford have released a 360 of the one-of-a-kind rooftop garden being constructed on the upcoming St George's Gardens in Castlefield, Manchester, which is due for completion in June 2020. This roof garden is entirely unique to DeTrafford and will include a bar, yoga space and outdoor cinema.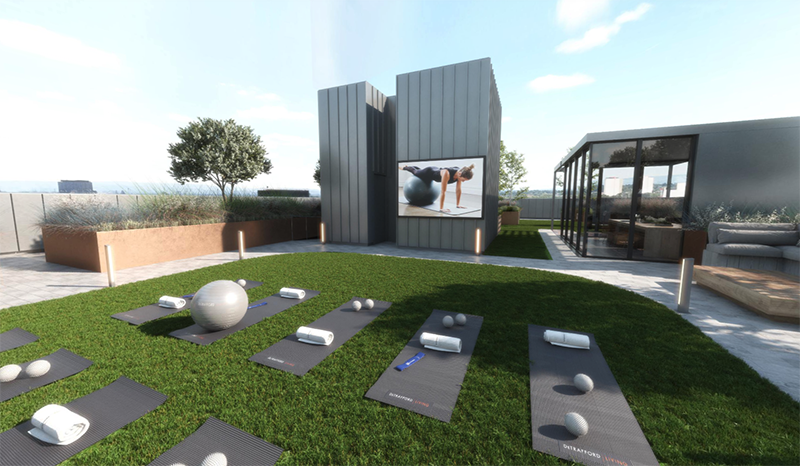 Commenting on the upcoming rooftop garden, DeTrafford's design team were enthusiastic about sharing their vision with the public: "Situated at one of the best vantage points in City Centre Manchester, overlooking the historical grounds of St Georges church, the new St Georges Gardens rooftop is a prime location for morning yoga at sunrise, a mid-day picnic with friends and exclusive outdoor cinema showings by dusk."
"Inspired by Manchester's industrial heritage and surrounding sites of the Castlefield area, the materials chosen are rich in colour and texture with the use of corten, granite and timber leading from the sophisticated mid-century inspired interiors."
"The landscaping between the lawned grass and relaxed seating is a combination of lush greenery and low maintenance shrubs surrounded by pockets of private lounging and a central rooftop bar, softly lit by ambient lighting make it a perfect destination spot this summer."
St George's Gardens consists of luxurious 1 and 2-bedroom apartments for sale or rent and is being constructed by DeTrafford's own in-house construction team. The development is situated in Castlefield, which means its rooftop is ideally located to provide great views across the city centre.
The 360 visualisation of the rooftop design is now available to view online