CTE at Vertikal Days 2018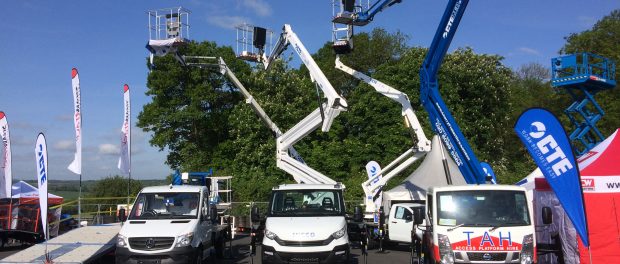 A Special Preview of Several New Products from the CTE ZED and CTE B-LIFT Range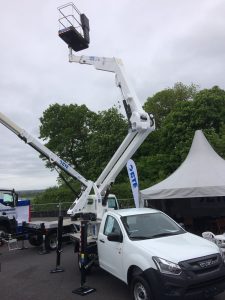 On May 16th and 17th, CTE participated at Vertikal Days in Donington Park (Leicestershire – UK).
Vertikal Days was a very important occasion for CTE and gave an ideal opportunity to show the preview of some new CTE truck-mounted models to the UK and European markets.
On display, as world premiere, was the brand new CTE B-LIFT 20J on Nissan Cabstar, truck mounted telescopic platform with jib that reaches 19,8 m of working height, 14,7 m of max outreach and 300 kg of max capacity, with S3 Smart Stability System.
Other new products, but with articulated boom, that were on display were the CTE ZED 20.3 A+H mounted on Mercedes Sprinter, that reaches 20m of working height, 8,8 m of outreach & 230 kg of capacity. The new stabilization configuration consists of front A frame stabilizers – to give more stability (due to long cab) – and rear H stabilizers at rear – to save space on site. A new CTE ZED 23.3 JHV mounted on Iveco Daily, that reaches 23 m of working height, 10 m of outreach and 250 kg of capacity, equipped with the innovative S3 Smart Stability System.
Also on the CTE Stand, number 108,  the new CTE ZED 21.3 JH mounted on the Nissan Cabstar (purchased by TAH Access Platforms UK and already with the customer's livery, looking very smart), and the versatile CTE ZED 15.2 on pick-up (Isuzu), interesting for off-road sites thanks to its maneuverability and high performances.
During the exhibition, there were many visitors at the CTE UK stand. Graeme Hill from CTE UK says: "CTE had a good and fruitful 2 days at the Show, with many of our regular customers coming to see us and view the new products, all with great interest. We also welcomed many new customers who wanted to know more about CTE and the products and service support we can offer. A busy couple of days with very positive interest in the new machine types we showed".