Construction starts for National College for High Speed Rail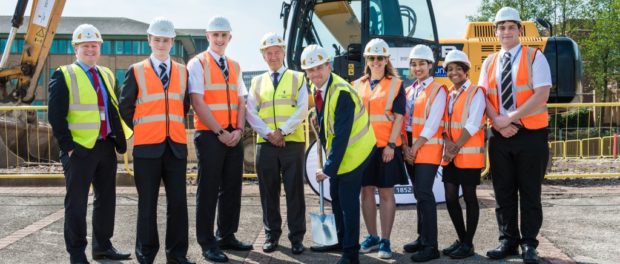 Breaking ground ceremonies mark construction start for National College for High Speed Rail in Birmingham and Doncaster.
Construction works have begun in Birmingham and Doncaster on The National College for High Speed Rail (NCHSR), which was celebrated with breaking ground ceremonies at the two sites yesterday.
The official start of construction in Doncaster's Lakeside and Birmingham's university district is the latest milestone for what will be a high tech training facility, which will support HS2 and future rail infrastructure projects by providing the future workforce with specialist training, skills and qualifications required. The college will equip thousands of students with the engineering skills required to build, operate and maintain a railway.
Minister of State for Transport Robert Goodwill, said: "This landmark moment means we are one step closer to seeing students walk through the doors of the College in 2017, learning the cutting-edge skills we need to deliver HS2 and world-beating rail infrastructure.
"This shows the transformational effect that HS2 is already having on our country – boosting skills, generating jobs and supporting economic growth – before spades are in the ground next year."
Birmingham City Council and Doncaster Council have been working closely will HS2 Ltd, setting up the structure of the college and developing the curriculum.
The college will bring growth in Doncaster and Birmingham, bringing new investment into the area, providing highly skilled jobs for local people.
The college is on track to open its doors to students in September 2017. It will be open to a wide range of people including new entrants, existing workforce, students studying a foundation degree in rail engineering, access students, mature entrants, higher apprentice rail engineering students, progression from L3 diploma rail engineering, continuous professional development and career changers.
Beth West, HS2 Ltd Commercial Director and member of the College Board, said: "The National College for High Speed Rail will help re-define what it means to be employed by the rail industry by attracting new people and providing the opportunity to create the diverse workforce that the industry aspires to.
"It is vital that we act now to ensure we have enough skilled people to build HS2 and the College will provide specialist vocational training for the next generation of engineers and apprentices."
HS2 will improve capacity across Britain's rail network, shortening journey times between major cities and providing a major boost to the economy, supporting 100,000 jobs nationwide. Around 25,000 jobs will also be created during construction of Phases One and Two.