Construction begins on Santander's landmark new workplace in Milton Keynes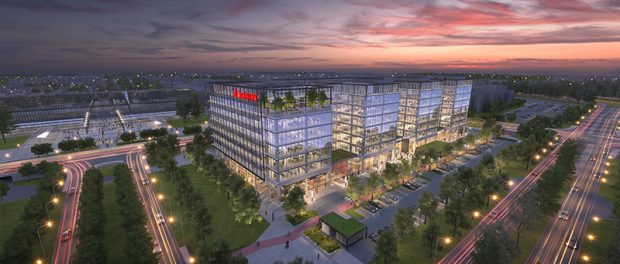 Work to deliver Santander UK's landmark new workplace in Milton Keynes has started on site today. The £150 million state-of-the-art campus, which will be known as Unity Place, will be a centre for digital banking innovation and will incorporate a range of community facilities.
Procured by Osborne+Co for Santander and designed by LOM architecture and design, the scheme will bring together Santander's 6,000 employees who are currently spread across four sites in Milton Keynes. This vibrant workplace will nurture collaboration and support the health and wellbeing of their staff. It has also been conceived to help attract the next generation of talent who will drive the banking sector in the future.
Unity Place is designed to be the focal point for Santander's UK business and the local community. The scheme includes coworking space for small business and start-ups. Local businesses and the public will be encouraged to use the ground floor facilities including an 'urban market', retail outlets, health facilities including; gym, yoga and consultation spaces, a community hall and an auditorium. There is also a rooftop running track and café/restaurant complete with terrace.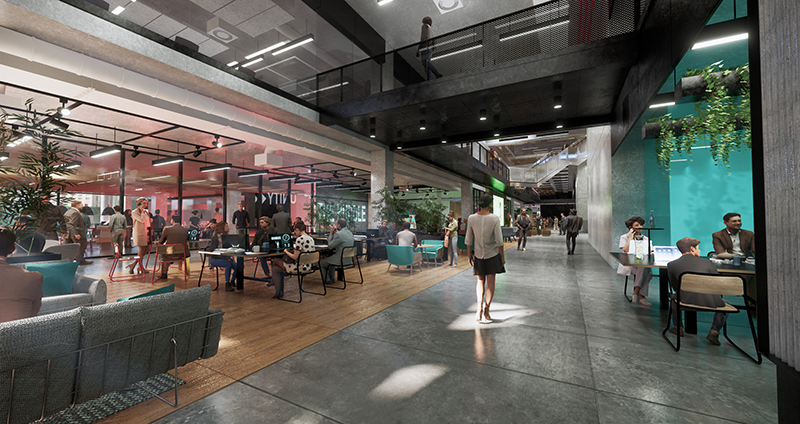 Sustainability and staff wellbeing are core objectives for the project. The scheme is designed to achieve a WELL 'Gold' Certification, which is a measure of the building's impact on health and wellbeing. The building is also designed to achieve a BREEAM 'Excellent' rating for its environmental sustainability performance and will exceed Building Regulation requirements by reducing CO2 emissions by a further 20 per cent. It includes solar panels on the roof and uses brise soleil on the building façade to help maximise natural daylight, while reducing solar heat gain.
The day-to-day operation of the building will be supported by a dedicated 'campus app', allowing users to book and manage rooms and other spaces and browse campus events.
Nathan Bostock, Chief Executive, Santander UK, said:
"We're very excited to be starting work on Unity Place, a major investment in Milton Keynes, reflecting our long-term commitment to the local area. Milton Keynes is already one the UK's leading technology centres and with a number of innovative education and training providers on our doorstep, we hope it will be a real magnet for technology talent. Once complete, the campus will be a state-of-the-art workplace which reflects our culture and our vision for the future. It will be a world-class home for Santander which both our colleagues and the local community can take pride in."

The project is being delivered by developer Osborne+Co, architects LOM architecture and design, engineers WSP, planning consultants Deloitte and project and cost managers Turner & Townsend.
LOM's design for the eight-storey building comprises four blocks connected by three atria and includes two basement levels providing plant space and parking. It is designed to be easily adaptable to ensure that it is sustainable in the long term. For example, the coworking area can expand or contract to accommodate changes in Santander's space demands and the building can be subdivided for separate tenancies.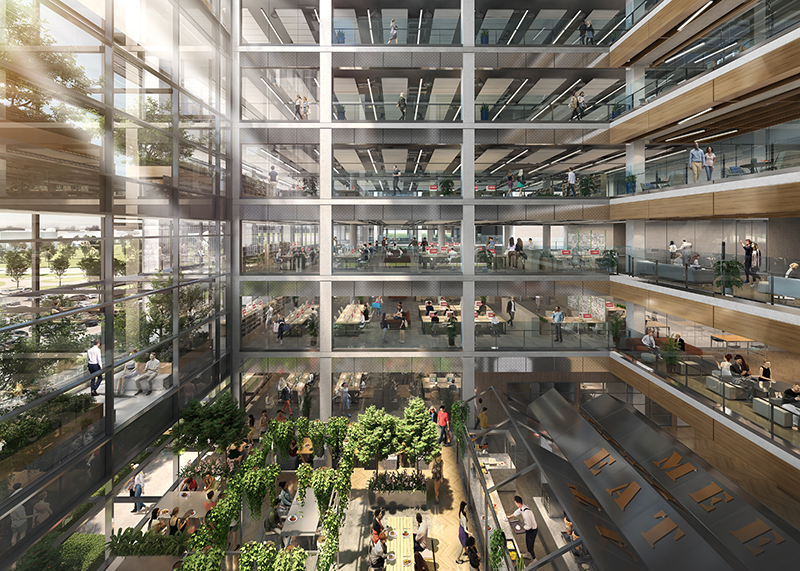 Designed as a large, open public space, the 'urban market' on the ground floor will offer a wide variety of food and beverage options to staff and the public. These outlets also offer scope for local businesses.
Coworking space is located on the first floor and the businesses using this space will be able to access support from Santander's commercial banking team who will be based in the same area. The upper floors provide workspace for Santander staff who will also have access to a rooftop running/walking track and terrace that hosts fitness and wellbeing classes.
The rooftop features a publicly accessible restaurant/bar area and terrace.
Parking for 900 cars and spaces for 560 bicycles are located on the ground floor and basement levels. Showers, changing and bicycle maintenance facilities are also provided. Through this scheme, Santander is actively encouraging staff to use more sustainable modes of transportation such as walking, cycling and public transport – the development is a few minutes' walk from Milton Keynes rail station and well served by bus routes.
LOM is currently developing a 'coding' theme for the interiors that is inspired by the nearby Bletchley Park – home to the famous World War Two Codebreakers, including the computing pioneer Alan Turing.
Richard Hutchinson, Director, LOM architecture and design, said:
"We have worked closely with Santander to understand its long-term aspirations for a scheme that will become one of the principal components in the bank's UK estate. Some 5,000 workstations will be accommodated across 37,000sqm of open-plan workspace.

"Given the significant number of employees to be supported under one roof, we've designed a variety of work settings to support both desk-based and more agile working. Spaces are planned as 'neighbourhoods' of around 100-125 people who share common facilities to give them a sense of belonging and opportunities to collaborate.

"Placemaking and ensuring that the building is welcoming to the local community is a key part of the brief. We have responded to this by designing active glazed frontages that look out to newly landscaped public space surrounding the building and by creating a lively internal street and 'urban market' on the ground floor."
Jim Osborne, Co-founder, Osborne+Co, said:
"Today has been the celebration of the start of construction of Unity Place, Santander's world-class digital hub in Milton Keynes. Applying best in class design principles and the very latest in workplace thinking at its core, Unity Place has been devised to enhance and facilitate innovation and creativity in the work environment with a particular focus on sustainability and staff wellbeing.

"Our approach to delivering Unity Place perfectly illustrates how we work closely with end-user occupiers, local authorities and local communities to deliver innovative property solutions."
The development was officially launched by Nathan Bostock and Iain Stewart MP for Milton Keynes South at a ground-breaking ceremony on Friday 28th February.
Planning approval for the 81,650sqm development was granted by Milton Keynes Council in July 2019. A contractor for the build is expected to be announced shortly. The building is anticipated to open in Autumn 2022.