Claire Ryan builds a framework for women in construction with regional award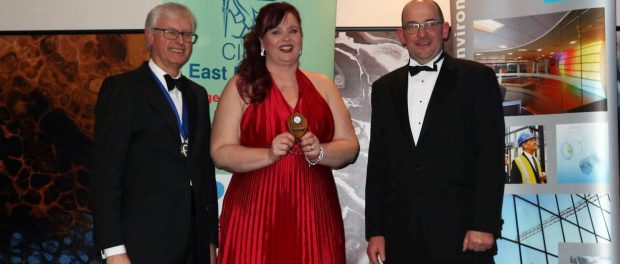 Claire Ryan is telling women to "never give up" after becoming the first female recipient of a regional award which recognises her commitment to studies of construction.
Claire Ryan works for Lincolnshire Partnership NHS Foundation Trust (LPFT) as an Estates Officer, and was able to balance her studies alongside the role, working towards a Higher National Certificate (HNC) Diploma in Construction and the Built Environment.
The John Hulme Award by the Chartered Institution of Building Services Engineers (CIBSE) recognises the exceptional results of an individual's persistent and consistent approach to their studies. Claire was elated to find she had won and said:
"It's a great feeling to be recognised in this way. Construction is a male dominated world, when I first started with the Estates Department at LPFT, most of the time I was the only woman in the Mechanical and Engineering meetings.
"Over time, I managed to find my voice in meetings and make an impact. I am part of a class of 10, all being male apart from me, and all with a trade behind them. I am an ex hairdresser and beauty therapist who started working for the Trust within management accounts and now estates, and my job path couldn't be any more different to theirs.
"To be able to be recognised for the hard work I've put in to complete this course is a true honour. I'm the first to admit I've had wobbles along the way, and I could have quit at times, but I'm so pleased I didn't. In light of winning this award, I want to tell women in this field that you should never give up, because you really can do it."
Neil Smith, Claire's HE tutor at Derby College commented:
"I am thrilled that Claire received this award, she is a deserving recipient. Claire possesses an inquisitive mind, she is not afraid to take on a challenge and she has a self-driven attitude that will be an asset to her moving forward. She is studious, very hard working and a confident individual."
John Clarke, Associate Director of Estates and Facilities at LPFT, works with Claire and said:
"In line with the Trust's ambitions, we supported Claire in furthering her academic training through day release so she could not only realise her personal potential, but deliver a great service in the Trust.
"Throughout her academic studies, Claire has continued to carry out her substantive duties to the usual high standards, and provide support to the Trust and her colleagues.
"As she gained experience in the practical delivery of projects, Claire was able to develop her skills to further contribute to the earlier stages of projects involving design, development and delivery.
"I would encourage anyone to try to reach their full potential like Claire has, the culture of the Trust supports individuals to develop themselves, and by providing that support I think both the Trust and individuals benefit, it makes the Trust a great place to work."
To find more information on both clinical and non-clinical careers in the NHS, visit www.lpft.nhs.uk/work-for-us