Carmarthen hwb receives full planning permission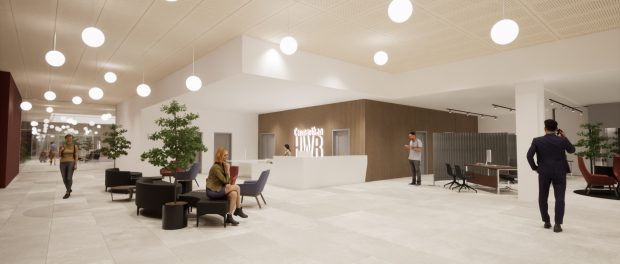 Carmarthen Hwb, a wellbeing and cultural centre housed in the former Debenhams store in the centre of Carmarthen, has been given the go ahead. A Notice of Commencement was issued on 13th March 2023 and works at the former department store on St Catherine's Walk will start.
Bouygues UK is the preferred bidder for the project, which is a collaboration between Carmarthenshire County Council, Hywel Dda University Health Board and the University of Wales Trinity Saint David (UWTSD). Funded by the UK Government's Levelling Up Fund, the Hwb will be a public space which will promote preventative health care and wellbeing. It will house council teams that can help residents with employment support and lifelong learning opportunities, will house a gym, as well as be home to some of the county's museum collections in a state-of-the-art culture, leisure and exhibition space. The project has been funded by the UK Government's Levelling Up Fund.
It will also be a base for Carmarthen town's tourist information centre, council customer services as well as access to further and higher education for local people, delivered by the UWTSD Group, which includes Coleg Sir Gâr and Hywel Dda University Health Board.
Housed in the former Debenhams department store in St Catherine's Walk, it is expected that once open to the public it will increase footfall for the town centre and drive further economic resilience for local traders and retailers.
When the store closed in May 2021 the knock-on effect on trade in the town centre was significant. It is hoped that the new centre, the first of its kind in Carmarthenshire, will encourage more people from the region into Carmarthen town centre to take advantage of all of the public and leisure services that will be available under one roof.
Bouygues UK has already been working closely with sub-contractors from the area on its other project at Pentre Awel in Llanelli, and will continue to do so at the Carmarthenshire Hwb project – with a further commitment to upskill all those working in its supply chain on the importance of embedding sustainability into their work.
John Boughton, Managing Director of Wales for Bouygues UK said:
"It is great that this next stage of the planning process has been granted and we can start work on this redevelopment, which will bring nearly 8,000 square metres of commercial space in the town centre back to life.

"Refurbishing rather than rebuilding this former department store ties in with Bouygues UK's commitment to climate and the environment. We have ambitious plans to decarbonise, reduce water and energy use, as well as decrease waste generated on site by 40% by 2030.

"This is a unique development that brings together health, education and public services under one roof – serving the local community at an easily accessible base, and will be an amazing resource for all who use it," John added.
Cabinet Member for Regeneration, Leisure Culture and Tourism Cllr Gareth John said:
"The planning application submitted by Bouygues UK has been approved and we are now at the stage where the works to redevelop Carmarthen HWB, which is known as the former Debenhams building in St Catherine's Walk, can go ahead.
This is excellent news, as the Carmarthen HWB will provide a range of public services under one roof. Working in partnership with Hywel Dda University Health Board and University of Wales Trinity Saint David, we intend to bring this prime commercial space back into use to help boost the local economy and transform the town centre.
"People will be able to call into the Carmarthen Hwb to access health services, employment support and public services, university facilities and lifelong learning opportunities and a gym.

"This building will also provide a more central home for some of our museum collections, provide exhibition space and act as a welcome point for visitors to the town. It is important that this redevelopment adds value to the products and services that are already on offer in Carmarthen."