Canary Wharf Development reaches significant milestone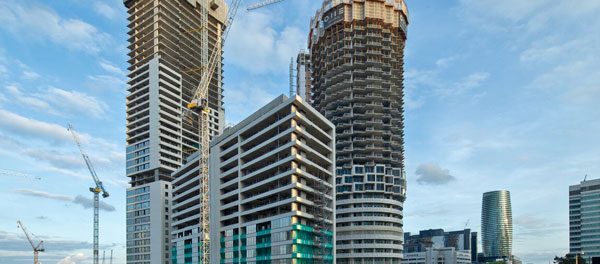 A significant milestone has been marked on a residential development in Canary Wharf, London.
Leading developer Canary Wharf Group is building residential apartments on the 10 Park Drive site. The building has recently been topped out, reaching its full height of 149 metres above ground level. It will offer 345 homes when completed in the final quarter of 2019
Designed by Stanton Williams Architects, 10 Park Drive will form a key part of Canary Wharf's new residential district, Wood Wharf, alongside neighbouring residential development, One Park Drive. It will comprise 74 studios, 115 one-bedroom apartments, 141 two-bedroom apartments and 15 three-bedroom apartments.
The apartments have been designed to maximise the light and vistas of the surroundings at every opportunity, and interiors have been developed by Make Architects. Residents of 10 Park Drive will also have access to a private sky terrace on the 13th floor, with bookable facilities and free use of shared spaces. The development sits adjacent to South Dock and is linked to the water by landscaped gardens and parks. Purchasers will also have access to a state-of-the-art new health and fitness club with a swimming pool, jacuzzi, sauna, steam room and fitness class studio.
Brian De'ath, Director of Residential Sales at Canary Wharf Group, said: "This is an exciting step in the construction of 10 Park Drive, both for the area and for us at Canary Wharf Group as we top out our first residences on the Estate. The work that has gone into the development so far has been phenomenal, and we look forward to it reaching completion and for the first residents to move into Canary Wharf. Some of our purchasers camped out overnight to be able to secure a home at 10 Park Drive which I strongly believe says a great deal about the quality of the offering here. The extensive calendar of events, diverse community and excellent transport links on the Estate are making it an increasingly hard location to beat within the London property market."