Bouygues UK joined by wales education minister and Cardiff university vice-chancellor to celebrate topping out of translational research facility for Cardiff innovation campus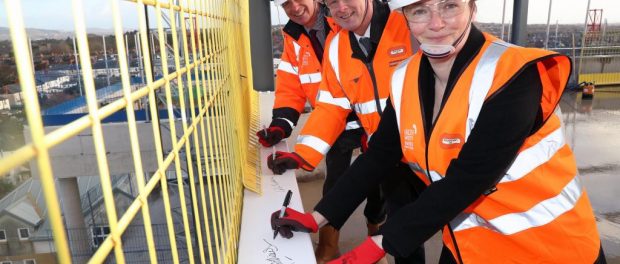 Bouygues UK's Rob Bradley was yesterday joined by Wales Education Minister Kirsty Williams and Cardiff University Vice-Chancellor Professor Colin Riordon to celebrate reaching the highest point of the Translational Research Facility, part of the Cardiff Innovation Campus Bouygues UK is delivering for Cardiff University. The three 'topped out' the facility by adding their signatures to a beam on the building's highest point.
The new state-of-the-art Campus will be a 'Home of Innovation' where staff and students build careers, businesses and social enterprises.
It features two new buildings – the Translational Research Facility and Innovation Central.
The Translational Research Facility, designed by global architects HOK, will be home to two world-leading scientific research establishments – the Institute for Compound Semiconductors and Cardiff Catalysis Institute.
Innovation Central, designed by award-winning architects Hawkins\Brown, will house SPARK, the world's first social science research park, and the Innovation Centre – a creative space for start-ups, spin-outs and partnerships.
Speaking at the event Rob Bradley said:
"We are very proud to mark the high-point of the Translational Research Facility – a centre for world-leading sciences that will bring benefits for industry and the wider economy."
Professor Riordan said:
"The Translational Research Facility is devoted to working with industry to unlock the power of research. The Cardiff Innovation Campus will be a true Home of Innovation."
The building is due to open on the Cardiff Innovation Campus in 2021.