Bonham Quay is granted planning permission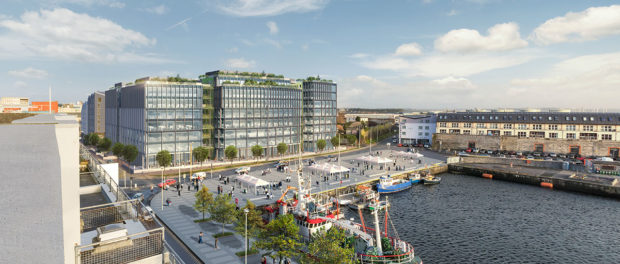 Galway City Council has granted planning permission for Bonham Quay a new high end office development overlooking the docks. Aiming to attract modern high-tech industries to Galway, the BDP designed scheme will strengthen the area's reputation as a fast growing European city.
The €104m campus comprises four office blocks surrounded by two adaptable public squares and linked together by landscaped bridges. The blocks range in size to allow for user flexibility. Additional facilities include retail and restaurants, a commuter centre encouraging smarter and sustainable travel, a fitness centre and a larger dedicated arts and cultural facility.
Bonham Quay will make maximum use of the spectacular views over the docklands with extensive use of external glazing and will benefit from day-long sunlight from the west coast. The development will be delivered to an exemplary environmental performance exceeding recently set zero carbon targets.