BEST IN LONDON BRICK CONTEST TO SHOWCASE BRITISH BRICKLAYING TALENT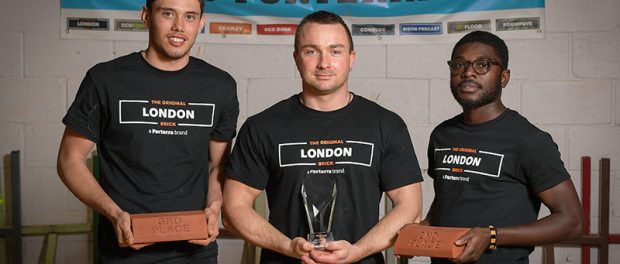 Leading building products manufacturer Forterra is rolling up its sleeves in preparation for Best in London Brick (BiLB), the company's professional bricklaying competition, which will be held for the second year running at Havering College in Essex next month.
29032019-51 – Best in London Brick 2019 winners: l-r – third place Connor Honeyman, first place Reggie Staponkus and second place Alfred Thompson.
Following the success of last year's BiLB launch, which saw professional bricklayers from across the UK compete to build a set piece within a limited timeframe, Forterra and hosts Havering College are looking forward to putting the talents of 11 contestants from across the UK to the test in this year's competition.
Each contestant will be presented with a bespoke diagram of an aesthetically sophisticated brickwork structure, which they will then have six hours to reproduce with as much accuracy as possible. Co-judging the pieces will be Dean Degun, Senior Projects Manager at Swift Brickwork Construction, and Paul Eaglestone, Contracts Manager at Stak Construction.
Among this year's entrants are 2019's BiLB winner and second place finisher, as well as a college tutor and a former bricklayer who went on to found Brick Jackets Ltd.
First place in BiLB 2019 was taken by 33-year-old Reggie Staponkus of Lee Marley Brickwork, followed in second place by 25-year-old Alfred Thompson of Swift Brickwork Contractors. Finishing a close third was Connor Honeyman, 25, of Stak Construction.
Bob Noseda, Sector Skills Advisor at Havering College, said: "It was fantastic to be able to host Forterra's first ever Best in London Brick competition last year, and we're very much looking forward to welcoming the entrants for this year's competition. Colleges have been invited to attend to allow students to watch the experts in action, which we hope will motivate and inspire them – who knows, some may even compete in years to come.
"I feel the whole of the construction industry needs more competitions of this kind to showcase the remarkable skills and talent we have in construction. I hope the Best in London Brick competition will grow to become a legacy event, perhaps even expanding into a regional contest in the coming years, as most competitions are aimed at students or apprentices, whereas this one showcases the skills of qualified tradespeople."
Stephen Harrison, Chief Executive of Forterra, said: "As a leading UK manufacturer of building products, we intend to further our commitment to building confidence and inspiring ambition amongst construction workers by encouraging our country's bricklayers to challenge themselves creatively and hone their professional skills in the process.
"In donating our London Bricks for use during this competition, we hope to help raise the standard of bricklaying in Britain, with a view to filling technical skills gaps and bolstering UK productivity."
London Brick, which has been in production for more than 140 years, has an iconic "frog" design which means it is easier to work with, making it an ideal product for professional bricklayers. The brand, whose heritage is closely linked to economic regeneration due to its role in post-war housebuilding, continues today to be used almost exclusively for residential renovation, maintenance and improvement.
To find out more about BiLB, go to www.forterra.co.uk/bestinlondonbrick.
For more information about Forterra, please visit www.forterra.co.uk. You can also follow the company on Facebook, LinkedIn, Twitter and Instagram via @ForterraUK, or subscribe to the Forterra YouTube channel.