Bears aid Selco's charity push for Macmillan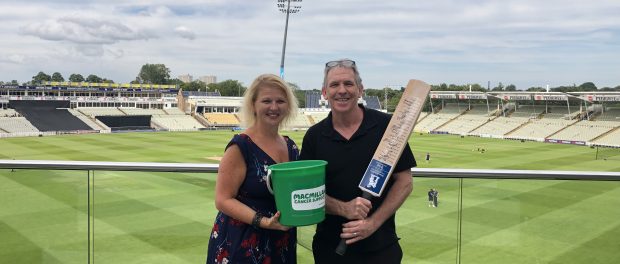 Selco Builders Warehouse has continued its eye-catching fundraising efforts for Macmillan Cancer Support – with the aid of one of the country's leading cricket teams.
Selco Builders Warehouse, lead sponsors for the Birmingham Bears team in the Vitality Blast and partners of Warwickshire Country Cricket Club, staged its annual charity night in aid of Macmillan Cancer Support at Edgbaston at the Bears' recent T20 clash against Derbyshire Falcons.
A total of £15,000 was raised on the night, with one of the highlights being a pre-match dinner attended by Selco suppliers where former Warwickshire captain and England star Dermot Reeve was the guest speaker.
Other fundraising activities included fans attending the game being invited to take part in a special throwing challenge to win tickets to Vitality Blast Finals Day at Edgbaston in September, while Macmillan volunteers were also situated around the ground with collection buckets.
Birmingham Bears further boosted the fundraising coffers with a £5,000 donation. Selco has now raised £700,000 for Macmillan over the last seven years.
Warwickshire CCC's Alex Perkins, head of commercial, said:
"It is great to be able to support such a worthy cause in Macmillan Cancer Support and the Selco charity night has become one of the highlights of our T20 calendar.
"Dermot was very entertaining in the Q&A at the dinner and we were delighted to support Selco in their quest to raise vital funds for a charity which does outstanding work."
Carine Jessamine, Selco marketing director, said:
"We were thrilled to welcome guests to our charity dinner and extremely grateful for their backing on the night.

"We are also very grateful for the support of Birmingham Bears and the club's supporters who attended and all helped in raising a huge amount of money for our nominated charity."
Fern West, corporate partnership manager from Macmillan Cancer Support, said:
"Our partnership with Selco is a fantastic example of a long-term relationship that can have a real impact on the lives of people affected by cancer.

"The money raised at Edgbaston will go a long way to help everyone with cancer live life as fully as they can and we'd like to thank Selco for its continued support."