Beard completes new Cultural Heritage Institute at Swindon's historic Carriage Works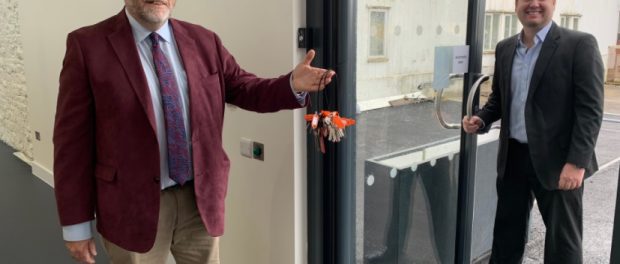 Swindon-based construction firm Beard has successfully completed a new Cultural Heritage Institute for the Royal Agricultural University, as part of the redevelopment of the town's historic Carriage Works.
The new facility will provide a postgraduate and professional training hub, aimed at increasing the number of trained professionals within cultural heritage industries, which form an important part of the local and national economy.
The project has been supported by Swindon Borough Council, which owns the Grade 2 listed building. Built around 1876, as part of Brunel's Great Western Works, the buildings were once the largest carriage works in the country.
Beard has kept up work on the site throughout the coronavirus pandemic, to ensure that the new Institute was completed and ready in time for the start of the new academic year.
This has meant working closely with suppliers to implement a raft of new on-site procedures to ensure that construction could proceed safely with minimal risk to colleagues, subcontractors and the wider public.
Beard's Swindon operations director, Jamie Harwood said: "Beard is a family-run firm with roots in Swindon going back more than 125 years, so it is a privilege to work on such an iconic local building as the Carriage Works.
"It is apt that the new facility will be devoted to providing cultural heritage training. The building itself is an important part of Swindon's history and thanks to the redevelopment, it can also play a big role in the town's future."
Councillor Dale Heenan, Swindon Borough Council's Cabinet Member for the Town Centre, Culture and Heritage, said: "The completion opening of the Royal Agricultural University's Cultural Heritage Institute is fantastic news and a key milestone in the regeneration of Brunel's Carriage Works, one of Swindon's most iconic heritage assets.
"I would like to take this opportunity to formally welcome the University to Swindon – I am sure they will have a long and happy tenure delivering lectures from the heart of Swindon's own railway history."
Vice-Chancellor of the RAU, Professor Joanna Price, said: "The CHI is an important strategic project for the RAU and means we will be able to provide wider access to higher education courses in archaeology and heritage management – key subjects vital to filling a national skills gap.
"Heritage is a growing business sector contributing billions to the UK economy through regeneration, tourism and consultancy, and through the CHI we aim to provide students with the right skills and insight to lead successful careers in this exciting industry."