Base Structures involved in the UK's first ever dedicated drone port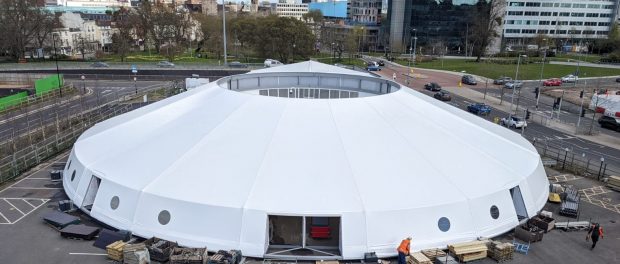 Base Structures are proud to be a key part of this ground-breaking project to design and construct a dedicated drone airport in Coventry – the first ever in the UK.
The project sees multiple partners working together to create 'Air One,' an ambitious fabric structure that hosts a moveable hydraulic FATO platform (final approach and take-off area) in the structure's centre. The 45m diameter structures was clad with PVC coated polyester fabric and included a fabric lining incorporating clear visual panels to the internal drum wall.
Andy Traynor, Director of Base Structures, said:
"Multiple trades and designers were involved in this complicated & intricate project, so collaboration & coordination was key to making it a success. With an incredibly tight installation programme, there was no scope for error, and we were pleased to successfully install our element of the project on programme and in only 4 weeks.
"As a blueprint for the first of many urban drone airports, there's an ambitious target to roll out as many as 200 Vertiports out around the world in the next five years. We're proud to be to provide and apply our fabric knowledge and skills in a totally unique way."
Although we're at the forefront of such technology, it's widely believed that drones will play an increasing transportation roll across the world and may be a more familiar sight in the skies above us. UK company Urban Air Port look to grow such an industry, with one day hosting electric and Vertical Take-off and Landing (VTOL) aircraft from their Vertiports that could be used to transport paying passengers.
For more information about this project, visit: https://www.urbanairport.com/ or contact sales@basestructures.com
For more information about Base Structures, visit www.basestructures.com and have a look at their extensive portfolio of tensile fabric solutions and canopies for outdoor areas.
For any questions or to chat through some options with the team, ring +44 (0) 1179 115250 or email sales@basestructures.com