Barratt Developments sponsors Annual Battle of the Badges football fest with £32K total raised for Archie Foundation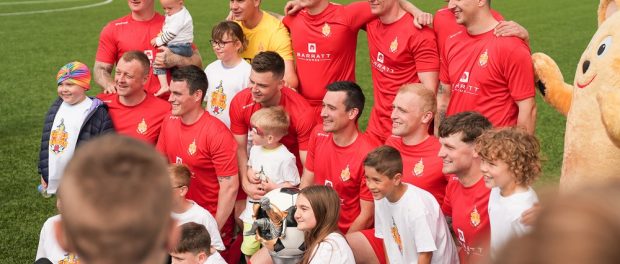 It was a victory for Team Fire at the annual Battle of the Badges football tournament, where a total of £32,436 was raised for the Archie Foundation, the official charity of the Royal Aberdeen Children's Hospital.
Team Fire went head-to-head with their emergency service partners Team Police after Team NHS and Team SAS were knocked out in earlier rounds.
The event, which took place on Saturday 10th June at the home of Cove Rangers Football Club in Aberdeen, is a firm favourite day out for many families in and around Aberdeenshire.
Attendees enjoyed face painting for the kids, flying firemen on their cherry picker, a unicorn, fire trucks and had a chance to beat Archie the bear in goals.
Barratt Developments, which includes Barratt Homes and David Wilson Homes in North Scotland, has previously donated £1,000 to The Archie Foundation's neonatal unit in Aberdeen through The Barratt Foundation's Community Fund initiative.
With this event came the opportunity for Barratt Developments to support the charity once again as the main sponsor, where the Archie Foundations team's fundraising surpassed last year's total of £15,000 by raising an impressive £32,436.
Each footballer who played in the tournament had a designated mascot, who was supported by The Archie Foundation through NHS Grampian or Dr Gray's in Elgin. You can read more about the teams and their inspirational mascots here.
Cassie McGunnigle, Fundraising Manager at The Archie Foundation, said:
"We are absolutely thrilled by the total raised at this year's Battle of the Badges.

"The event offers our mascots the chance to engage with frontline workers (who are superheroes to many of them) and have some much-needed fun. It may only be one day, but to many of our mascots, that one day is exactly what they need. We are so grateful to all who supported this special day and to Barratt and David Wilson for being our headline sponsor."
David Palmer, Managing Director at Barratt Homes and David Wilson Homes North Scotland, said:
"We are delighted to have been part of the fundraising for this year's Battle of the Badges tournament. It's great to have seen the amount of money raised increase immensely this year.

"Giving back to the communities in which we build has always been a priority for Barratt Developments, and we try our best to identify the charities most in need in our divisions with the help of our staff.

"This quarter we've donated to four fantastic causes that are supporting vulnerable or disadvantaged children in the North of Scotland. To be able to provide essential services in the current climate can be extremely challenging for charities. Hopefully, these donations will help them to continue the vital work they are doing in their local communities."
For more information on Barratt Developments in the North of Scotland, visit https://www.barratthomes.co.uk or https://www.dwh.co.uk
To find out more about the Archie Foundation's work, visit The Archie Foundation website here.