Balfour Beatty protects numerous homes in Dundee as it completes vital flood defence scheme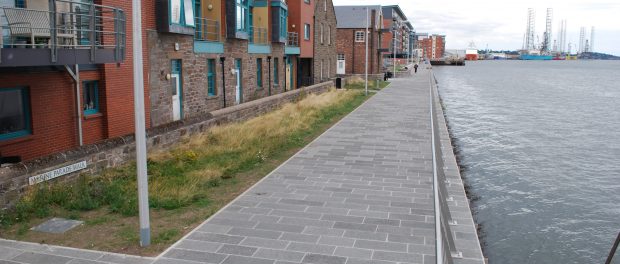 Balfour Beatty has completed the £6.5 million Dundee flood protection scheme on behalf of Dundee City Council.
The project, which was awarded under the Scape National Civil Engineering and Infrastructure framework, will reduce the risk of flooding to the new £1 billion Dundee Waterfront area, and protect numerous homes and major roads between Camperdown Dock and Dundee Airport.
A variety of materials were used including reinforced concrete, concrete blocks and natural stone to build a new, set-back flood defence wall, as well as flood gates to facilitate pedestrian, cyclist and vehicle access.
To minimise disruption to the local community and visitors to the area, Balfour Beatty implemented specialist fencing to segregate the works and maintain right-of-way for members of the public at all times.
Iain Lumsden, Managing Director of Balfour Beatty's North Scotland Delivery Unit, said: "The local community and visitors to the new Dundee Waterfront area can now fully experience the extensive benefits of the scheme, which will protect numerous nearby properties and roads from the risk of flooding.
"Through Scape's framework, we have worked closely with Dundee City Council to make a real and sustainable contribution to the local economy, including the delivery of over 600 apprentice hours through the Angus Shared Apprentice Programme."
Victoria Brambini, Managing Director at Scape Procure, commented: "Effectively managing our coast through flood protection schemes is vital. The important work that has been carried out in Dundee, will reduce the risk of flooding to houses, businesses and key infrastructure. Over the last 20 years Dundee's waterfront has been transformed, with the local community benefitting from new shops, restaurants and museums, this project is an important step in securing the area's future.
"Creating social value is an integral part of our frameworks, and the 600 apprentice hours logged on this project, will have been invaluable for local apprentices. Onsite experience is an essential part in supporting young people to develop vital skills."
Mark Flynn, Deputy Convener of Dundee City Council's City Development Committee, said: "The Dundee flood protection scheme has been a significant piece of work which has created greater piece of mind for residents and business potentially at risk of higher water levels in the future.
"The project has been delivered effectively and efficiently and has had lots of positive comments from people saying that it has enhanced some of the waterfront walks."
Balfour Beatty is the sole delivery partner on the Scape National Civil Engineering and Infrastructure framework. The £1.5 billion framework allows public sector clients to commission works through a procurement process that provides the fastest route to market and utilises early contractor engagement to deliver the best value solutions for clients.