Apsley site manager wins top housebuilding award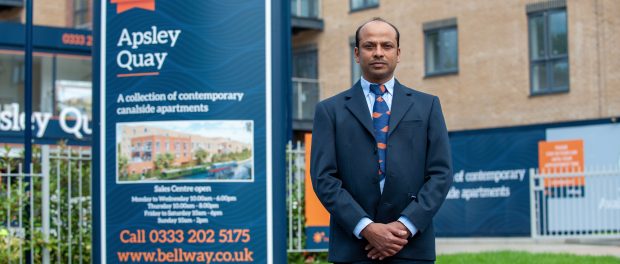 The site manager at a new homes development in Apsley has won a top industry accolade in recognition of his work.
Chandra Kancham, who is in charge at Bellway's Apsley Quay development, received the Regional Award in the Multi-storey Builder category from the National House Building Council (NHBC).
He was one of one of only six site managers from across the whole of the UK to receive the award in this category.
Apsley Quay is a development of 170 apartments being built off Frogmore Road, on land next to the Grand Union Canal.
Chandra's win was announced by the NHBC during a virtual awards ceremony streamed online on Friday 13 November. He was also one of 14 site managers from the Central Region to be awarded a Seal of Excellence at the event. This followed his Pride in the Job Quality Award which was announced earlier this year, and led to his nomination for the Regional Award.
He will now go forward for the title of Supreme Award winner in his category.
Chandra, 47, who has worked for Bellway for over six years, said: "It is an honour to have been chosen to receive a Regional award for my work at Apsley Quay – it is a site that I am proud to say I work on.
"My team has worked tirelessly to ensure that Apsley Quay is a development of the highest quality, and this award is a real testament to their commitment and dedication.
"We work extremely well as a team and that has been particularly evident this year during the pandemic, when we have successfully adapted to the social distancing guidelines to continue to deliver high-quality homes in a safe environment."
Rob Sapsford, Construction Director for Bellway North London, said: "Just to be nominated for a Regional Award is a fantastic achievement, so for Chandra to be one of just six site managers across the UK to win in this category is truly exceptional.
"Chandra's superb management skills and his keen attention to detail make him a worthy recipient of this award and I have no doubt that there will be more accolades to come his way in the future.
"I would like to take this opportunity to congratulate Chandra on his success and to thank him on behalf of Bellway for continuing to achieve the very highest standards in construction."