Amey secure a two-year extension With Kent County Council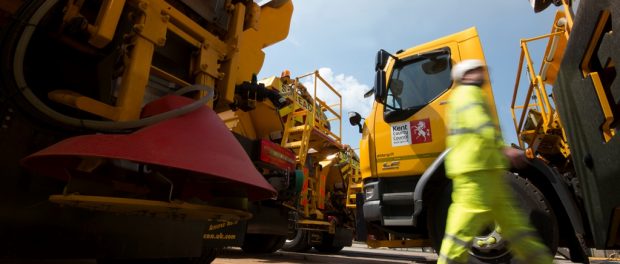 Leading infrastructure and highways company Amey, has secured a two-year contract extension with Kent County Council to maintain their highways portfolio. The contract, which will run until 2020 will be worth over £35million per annum and comes on the back of a seven-year partnership with the highways company.
James Haluch, Managing Director of Amey's Highways Business, said: "We are thrilled that Kent County Council have extended the highways contract for a further two years. Since Amey acquired the contract both parties have worked tirelessly to ensure that the contract is delivering and is of mutual benefit to all concerned. This two-year extension shows the confidence and trust that Kent County Council have in Amey to deliver excellent service. The additional extension will enable us to further strengthen our local knowledge, and continue our investment in local infrastructure to benefit local people and their communities."
Kent County Council Cabinet Member for Highways Mike Whiting said: "Amey has been a long-time contractor and this extension will see that partnership continue. This is the largest single contract within the Highways department, covering a range of services from road repairs to gritting."
Having strong working relationships enables both Amey and the client to trial innovative solutions to every day challenges. A recent example is the use of winter sensors on current street lighting structures. By collecting targeted, local weather data along specific gritting routes, information can be gathered that better informs the teams about the decision to either sent out the winter crews or not. The data is collected from a series of small weather stations and road surface temperature sensors that are connected to the existing street light network.
Amey has managed the highways network with a team of 200 operatives for Kent County Council since 2013, this extension will take the management of the contract up to 2020. Amey will provide 24-hour emergency cover for any incidents on the road network as well as investment in the highways infrastructure.
Amey's commitment to social value and engagement has also had a positive effect within Kent. Over the past 12months the highways team have hosted a number of community days and built strong relationships with Kent County Council which has been recognised nationally by the Third Sector Charity.  Amey were finalists in the Best CSR category in 2017 for wide reaching and effective community and engagement work delivered within Kent, Hampshire, Gloucestershire and Staffordshire communities.