Amey Challenge Cup gets girls into STEM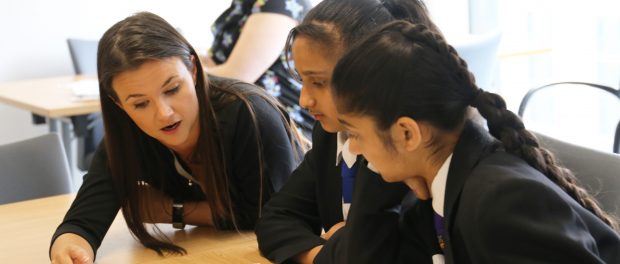 Ahead of International Women in Engineering Day on 23 June, Amey is hosting a series of competitions across the UK to inspire girls from underprivileged areas into STEM (science, technology, engineering and maths) careers
While girls continue to study STEM subjects at school just as much as boys (representing 48% of the total STEM entries at GCSE) and generally outperform boys in the majority of subjects, there is an ongoing imbalance when it comes to undergraduate degrees and jobs in STEM industries. Only 16% of engineering and technology undergraduates are female and the UK has the lowest percentage of female engineering professionals in Europe – around 11%.
The Challenge Cup was devised to raise awareness in schools of what is involved in an engineering career. It involves teams of girls looking at all aspects of an engineering project, such as designing a section of smart motorway or responding to a bridge collapse, including planning, budgeting and managing risk. The challenge also involves the girls presenting their solutions to senior professionals.
The competition, which involves 230 girls from 20 schools across the UK and 100 Amey employees supporting numerous events, is designed to show how many different roles are available within the technology and engineering sectors, as well as influence underprivileged schoolgirls to break the status quo and consider alternative careers.
Created five years ago as a careers involvement day by Birmingham-based Amey staff, the competition grew to include a number of schools in the West Midlands. Building on the successes of previous years, this June the competition goes nationwide with schools in Sheffield, London, Birmingham, Liverpool, York, Milton Keynes, Belfast and Scotland all taking part.
At last year's event in Birmingham, Grace from winning team Clayton Hall Academy said: "We're all really enjoying it. It's quite a challenge but that's what makes it enjoyable. It's coming along quite well with good team work."
Her team mate, Alice, added "We're both taking engineering GCSEs so it's quite enjoyable. It's challenging but fun." Lisa Ingram, Head of Business Improvement at Amey, started and developed the Challenge Cup after seeing the lack of aspiration, opportunities and female role models during a visit to her daughter's school.
She said: "We're really excited to launch The Challenge Cup across the UK in 2019. It gives girls from deprived areas access to professional female role models they wouldn't normally engage with. We have a social responsibility to build hopes and aspirations for the communities we work in, and Amey encourages its staff to get involved in enabling young people, especially girls, to take part in the cutting-edge industries we work in."