ADP wins go-ahead for Arts and Crafts-inspired house in Sevenoaks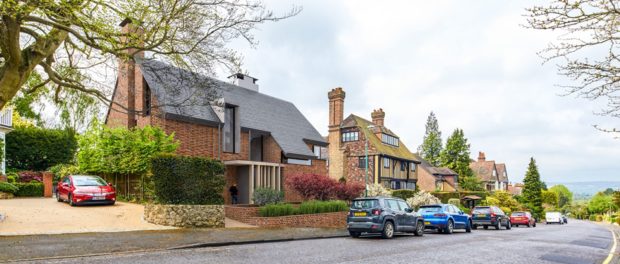 ADP has won planning permission for this 430m² house on a 'highly sensitive site' in Sevenoaks, Kent.
Replacing an existing bungalow, the scheme in The Drive will sit between a Grade II-listed house on one side and a  locally listed house on the other
According to the firm, the design was inspired by the Arts and Crafts Movement 'but expressed in a contemporary manner' and was described by Sevenoaks District Council's planning officers as 'high quality and sustainable".
The project features natural ventilation chimneys, a mechanical ventilation heat recovery system, photovoltaics and ground source heat pumps.
Underground tanks will store rainwater for irrigation of the landscape.
A spokesperson for ADP said: 'The internal layout reflects the traditional Wealden House arrangement, with a large double-height central void. The work of Baillie Scott – who was active in Sevenoaks – and the adjoining listed house by CW Bowles have also influenced the design.
'Passive low-energy design has been integral to the design concept, with heavily insulated facades on three sides, and a higher proportion of glazing on the south side for winter warmth.'
The project is being delivered by ADP's sister company Corde, a combined architecture and engineering design service.
ADP chairman Roger FitzGerald said: 'This is an important project for Sevenoaks, showing that high-quality design can be respectful of history and setting, whilst being contemporary and sustainable.'
Work is expected to start on site in early 2018 and take 12 months to complete.